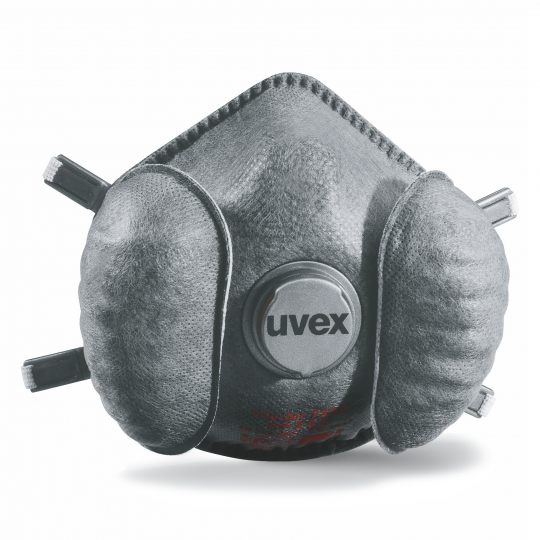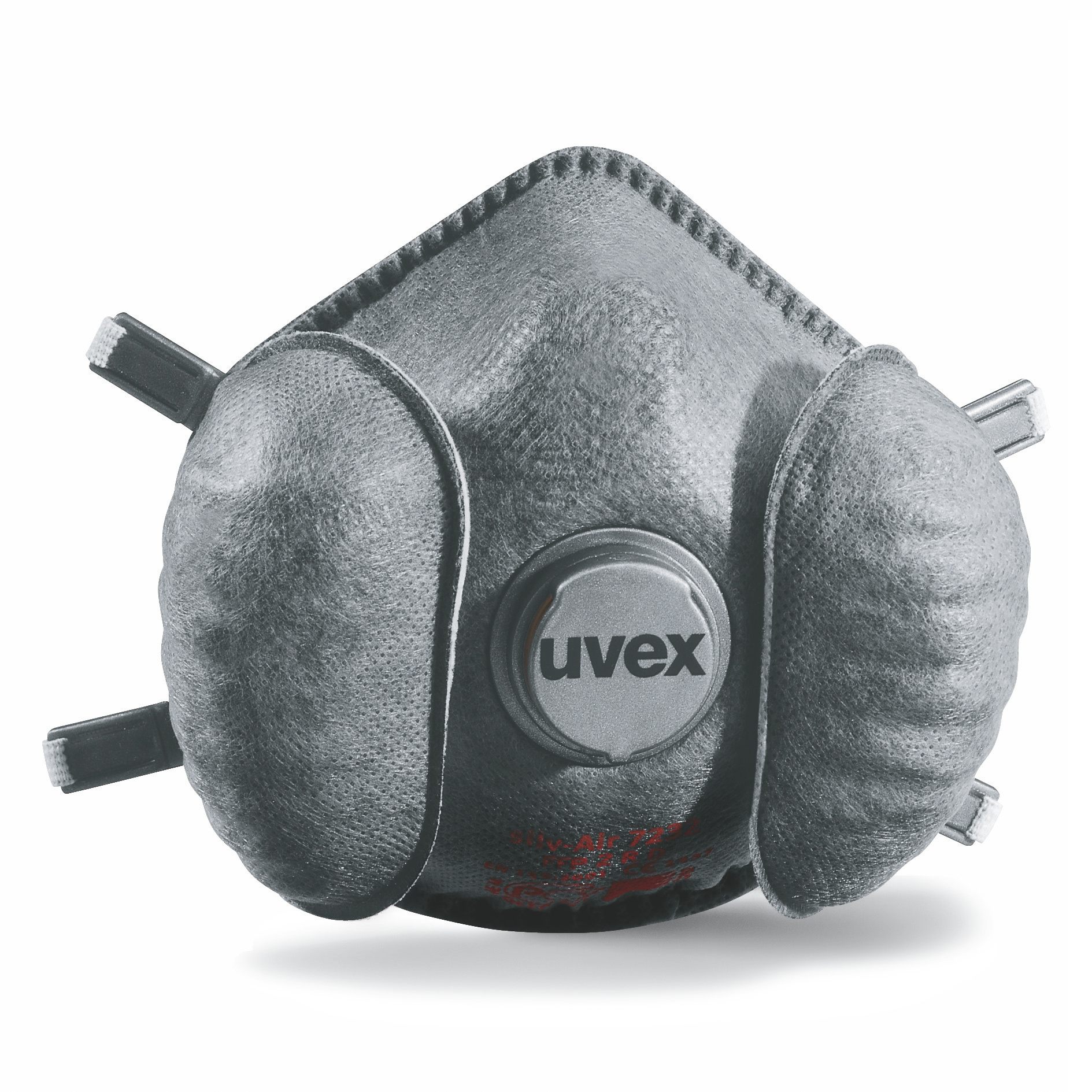 uvex silv-Air e 7232 FFP2 preformed mask
Article number: 8707232
reusable FFP2 preformed mask
exhalation valve and inhalation valves
especially low breathing resistance and optimum breathing climate with cooling effect
labelled for re-usability (R) and use with high levels of dust exposure (D)
comfortable, four-point headband attachment
extremely low inhalation resistance
uvex silv-Air e 7232 – high-performance face mask with extremely low breathing resistance and optimum climate properties
All masks of the uvex silv-Air e family combine our unique technologies of optimum wearer comfort with extremely low breathing resistance. The products are therefore suitable for heavy work and for being worn for long periods of time. The increased size of the filter surface even enables the high-performance models to be worn for several days.

General features
particle-filtering preformed mask with exhalation valve and inhalation valves
color: silver grey
Protection features
certified FFP2 face mask to EN 149:2001+A1:2009
D label (dolomite dust test passed): maximum breathability even with really high dust levels
R label (reusable): tested for re-usability and performance, including in the second shift
Comfort features
high-performance climazone system with three compartments for a comfortable, cool climate inside the mask
four-point headband attachment for a comfortable, individual and secure fit
flexible, adjustable integrated nose clip
exhalation valve to lessen exhalation resistance and to reduce heat and moisture inside the mask
two extra filters with inhalation valves for lower breathing resistance and increased comfort due to easier air exchange
high-quality silv-Air outer material for optimal breathability
very soft, all-around sealing lip for optimal wearer comfort and secure fit
nasal recess on the sealing lip ensures ideal fit for almost any nose shape
around 40 percent lower inhalation resistance compared to current FFP2 masks
Specifications uvex silv-Air e 7232 FFP2 preformed mask
| | |
| --- | --- |
| Product family | uvex silv-Air e |
| Version | preformed mask, with valves |
| Standards | DIN EN 149 |
| Additional information (DIN EN 149) | FFP2, R – reusable, D – successful dolomite dust storage test |
| Colour | Silver grey |
| Use | Construction and related trades: cement work, plastering, tiling, roofing, Construction and related trades – roof insulation: glass and mineral fibres, Construction and related trades – masonry: cutting, drilling, demolition, Construction and related trades – putty/filler: sanding, Disposal/cleaning: sweeping of floors, Woodworking: sanding/brushing off paint, Woodworking – softwood: sanding and cutting |
| Technologies | 360° exhalation valve, four-point head-securing strap, D marked, R marked, high-performance climate management, hochfunktionelle Filtermaterialien, comfort nose clip, circumferential comfort sealing lip, uvex Feinstaub-Filter-Technologien |
| Segment | Masonry / Stone Setting / Stone Work / Bricklaying, Ground Covering / Tiling |
Technologies

360° exhalation valve
The valve provides a noticeable reduction in exhalation resistance and reduces heat and moisture in the mask.

four-point head-securing strap
The fixing enables the seat to be secure at all times, individually tailored to the needs of the wearer.

D marked
The mask has been subjected to the dolomite dust test and offers the best breathability, even with heavy dust and under prolonged use.

R marked
The mask is tested for reusability and meets the requirements even when used in the second working shift.

high-performance climate management
Connected filter chambers ensure low resistance to breathing. Climate management increases wearer comfort immensely.

comfort nose clip
The mask is equipped with a high-quality nose clip and can therefore be individually adjusted.

circumferential comfort sealing lip
The soft sealing lip provides for a reliable and pleasant secure fit.